In addition to PivaPunch PCC (Punching Center for Coils), we would like to introduce the PivaPunch PCB (Punching Center for Blanks). It is the most efficient punching center for symmetrical parts and product families, and as flexible as traditional sheet metal punching centers.
When using many different materials or material thicknesses, or you want to produce just a small batch of parts, a coil punching system isn't usually the best choice. To match the need in the market we have launched the PivaPunch PCB — a punching center with Double the Punching efficiency.
The PivaPunch PCB movements are different from traditional systems. As for coil material, we move the blank only in X-direction by CNC Clamps — one clamp feeds the blank and one clamp pulls the blank. The punching is done with Thick Turret tools that are set in quick-change tool cassettes, one on each side, that move in Y-direction over the blank. The Double Tool Punch feature is used whenever possible.
The core of PivaPunch PCB consists of a feeding gripper, punching station itself, pulling gripper, slug conveyor, control panel and the required hydraulics and electrics. For this core you may add necessary options such as automated stacking/destacking or marking technologies, or you can integrate it to PivaBend.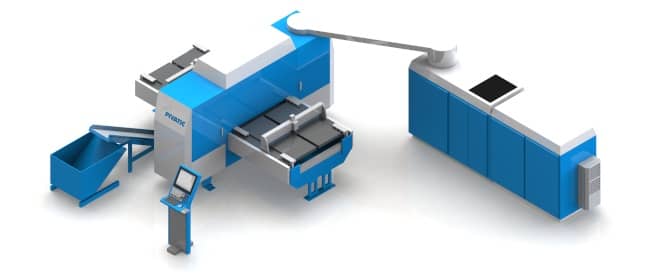 So what can be done with a PivaPunch PCB? We have positioned for customer segments such as Steel Doors, Casings for Air Handlers and Panels for Ceilings, Facades and Refridgerators. The material types vary from maximum of 6.00 mm mild steel to 3.00 mm stainless steel. For blank sizes our limitations are min. 280 x 850 mm and maximum of 1830 x X000 mm. The X represents the possibility to add very long blanks or create blanks straight from coil with PivaPunch Cut-to-Size option. It is also possible to split the punched blank with an external Cut-to-Length Shear into several smaller parts that are min. 300 mm long.

Additional information
Book online meeting and get more information. Contact sales team.