We would like to invite you to participate in the Pivatic Open House event between October 31st to November 1st, 2023. We will have three production lines/machines on display. The main themes for the event are: Coil punching and shearing line with stacking, Multitool Profile/Panel Bender, Pivatic software solutions.

Pivatic will pay for the accommodation, food & beverages during the days. The flights and local travel from and back to the airport will be your responsibility. You may register to the event through the link below.
Coil punching and shearing solution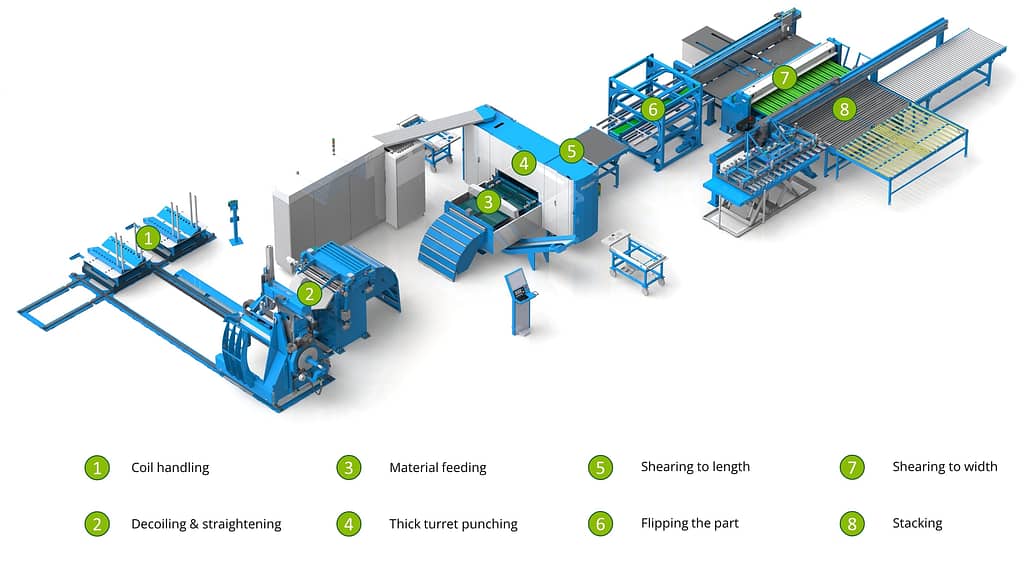 When talking about coil nesting, the traditional way is perceived as suitable for mainly big parts as large batches back-to-back. Our coil nesting systems give you multiple options to run your parts. You may choose the part type, amount, and the order in which you want the parts to exit the system. All parts of the same material can be produced from one wide coil, nested side-by-side.
A back-to-back nested coil is done by traditional coil punching equipment. To nest parts side-by-side on a strip, Pivatic uses a CTW Cut-to-Width station to split the nested blank that is cut from the continuous strip. There is potentially no waste in the Y-direction by filling the coil width with nested parts. For high-quality part production, the CTW can also act as an edge trimmer prior to the punching in a PivaPunch PCB Punching Center for Blanks.
This solution is being delivered for locker manufacturing, but similar solutions are suitable and have also been delivered to manufacture parts for HVAC, domestic appliances, commercial appliances, steel doors, office furniture, and electrical enclosures.
Multitool Profile/Panel Bender
The MPB can be customized with different console types and several bending tools to manufacture long and complex parts with a single-machine process.
Customer tests up to 4.0 mm mild steel (8 GA), 1.5 mm stainless steel (16 GA), 2.0 mm aluminum (14 GA) and 0.8 mm HSS (21 GA).